Sunshine Garden Dinning Hall
Indoor environment suitable for the growth of animals and plants created by Sunshine Garden Dinning Hall integrates natural and beautiful ecological environment into business space of catering reasonably, so that customers can enjoy eating in a pure natural environment and get physical and mental relaxation.

Rich Themes
Natural species and communities of various themes displayed in the dinning hall make people enjoy rich natural environment without hiking. In the meantime, exotic customs are also integrated in it. People are immersed in tropical rainforest, southern customs, and Jiangnan Waterside, far away from noise city, and enjoy pleasure brought by nature while enjoying cate.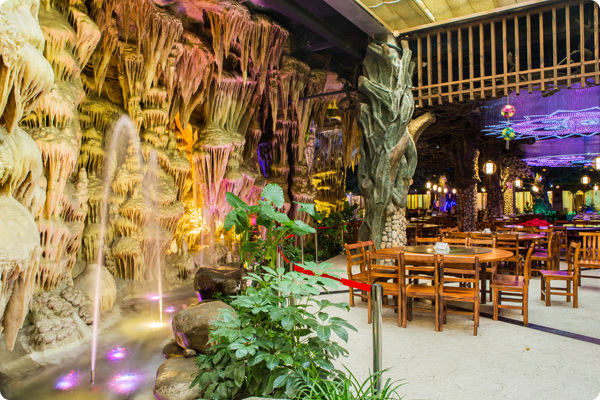 Comfortable Environment
The dinning hall covers a vast area, with more than 100 tables and nearly 1000 seats. All 16 private rooms are placed in in Sunshine Dinning Hall. With a comfortable dining environment, consumption price of Sunshine Dinning Hall is more friendly to tourists. Per capita consumption of about 50-80 yuan can meet dining demands of most tourists basically.